This post was written by Kylie Johnston, CASE Fellow, Co-President of the Net Impact Club, and Candidate for MBA, Class of 2017. This year's Sustainable Business and Social Impact (SBSI) conference focused on how business can tackle global challenges by exploring innovative models and collaborative partnerships that are already working to solve these challenges and discussing how these solutions can be scaled across industries and geographies. 
Want to be the first to know when SBSI18 tickets go on sale? Sign up for the CASE Newsletter!
---
As MBA studen
ts we're trained to be "reasonable"; to consider the ambiguity of any circumstance and make decisions and take actions guided by, or based on, sound judgement. In this regard, I'll graduate in May 2017 with an advanced skillset for wrestling with ambiguous challenges.
But what if the answers to the world's big challenges lay in being "unreasonable"? By thinking beyond the "bounds of reason"? How will my training fair then? As it turns out, business skills are key to solving global challenges. And that is the bet being made by the 'unreasonable entrepreneurs' engaged in the accelerator program of Unreasonable Institute.
Unreasonable Institute exists to "create a world in which no one is limited by their circumstances."  By uniting social entrepreneurs with business mentors and impact capital, Unreasonable Institute has succeeded in creating impact through more than 300 ventures, in 26 global locations, and benefiting 16 million people. These entrepreneurs are moving the needle on the world's big problems like malnutrition, job security, and financing for the unbanked. And at the 12th annual Sustainable Business & Social Impact (#SBSI17) conference at The Fuqua School of Business we had the opportunity to hear from Co-founder and CEO of Unreasonable Institute Teju Ravilochan.
Teju Ravilochan made "The Case for Being Unreasonable" in his keynote address at #SBSI17. And in chatting with conference delegates throughout the day, it was apparent to me that his words resonated with many social entrepreneurs, business leaders, impact investors and MBA students. To be unreasonable means to:
Live your strengths
Lean into your fear
Use all your strength
These activities resonated with delegates because, I think, in some way or another we can all adapt some aspect of our social impact journey to live more unreasonably. We can stop improving our weaknesses and invest in getting better at what we're already good at. We can partner with more people whose strengths are our shortcomings. We can take courage to start; just start! We can use every bit of our strength to push through the valleys of discouragement and adversity as we pursue solutions to the world's big challenges. This is the art of being unreasonable.
The art of being unreasonable won't come easily. Really, agreeing to 'lean into your fear' is easier in our conference seats than it is when we're at the coalface and required to have courage. But today I'm encouraged because I'm not alone in pursuing the art of being unreasonable.
Through Fuqua's CASE and Net Impact I have a community of courageous and talented peers, mentors and thought leaders who are advancing the business solutions for the world's big problems through the art of social entrepreneurship. While my MBA training has prepared me to be 'reasonable', I know that my peers and I can also be 'unreasonable' and together, with all of our complementary strengths and courage, we will tackle the world's big problems.
---
Watch Teju's Talk:
---
About Kylie Johnston: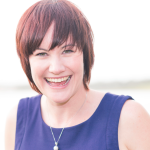 Kylie Johnston (MBA 2017) is a CASE Fellow and Co-President of the Fuqua Net Impact Club. Before coming to the Fuqua School of Business, Kylie worked with the Queensland Farmers' Federation in Brisbane, Australia. Read more about Kylie here.