Podcast: Play in new window | Download
Subscribe: Apple Podcasts | Stitcher | RSS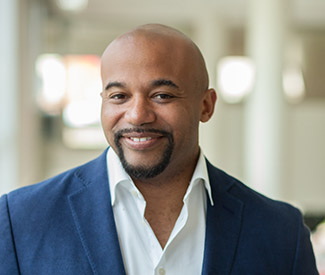 At CASE, we have spent the better part of our year diving into the topic of diversity, equity, and inclusion as it pertains to our work and the greater field of social impact.  In this episode of CASE in Point we talk with Daryn Dodson, a Duke alumnus, who shares insights from his work addressing implicit bias in the field of global banking and from his role as a board member of Ben & Jerry's Ice Cream.
Daryn's career in social impact started in Duke's hometown, Durham, at Self-Help Credit Union. He later gained experience at The Idea Village and Calverts Research and Management before founding Illumen Capital, an impact investment firm driving transformation in the global economic system to create a more equitable, empathetic, and prosperous world. In this episode, Daryn shares his personal story and the steps we all can take to address implicit bias and create lasting social change.
Inspired to Pursue Social Justice
After studying civil rights leaders, Daryn had the opportunity to travel to 22 cities across the United States, meeting a number of these leaders. Inspired by the story of Charles Hamilton Houston, who set out to train a generation of leaders to tackle inequity from a legal perspective, Daryn decided to take a similar path—but within the context of global finance.
The asset management business has over $61 trillion in circulation.  Of those, just a little over 1% are controlled by funds led by women and people of color.  Coupled with the implicit bias inherent in the financial sector, many minority groups face significant barriers when trying to access capital to grow.
Beyond Allocating Capital
Daryn believes that creating change within the financial sector must go beyond a focus on capital allocation.  Changing the system also requires intentional investment in the training and education of managers to reduce bias.  Daryn believes that the financial sector can learn from efforts to reduce bias within other systems, such as education and health care.
Proximity
As social justice activist Bryan Stevenson shares, to create solutions to systemic problems, we need to be proximate to the issue.   Daryn proposes taking investors on impact experiences as one vital step to recognize and address implicit bias.
Solutions at the Community-Level
As affected communities work to drive solutions to address racial inequity, Daryn emphasizes that investors should be building upon that work—not entering with prescriptive solutions.  Too often, investors come in with their own definitions of the problem and appropriate solutions.
Lessons from Ben & Jerry's
Even a progressive company like Ben & Jerry's realizes that it has much to learn about addressing inequality. Daryn shares how the company's leaders are actively listening to the employees on the front lines and learning about how they are addressing social issues from a local context.  He also shares how leadership keeps its ears open to employee activists and those within the community to determine how best to leverage its influence.
If you are enjoying the CASE in Point podcast, please leave a review on Apple Podcasts, Google Play, and Stitcher and share with your network.