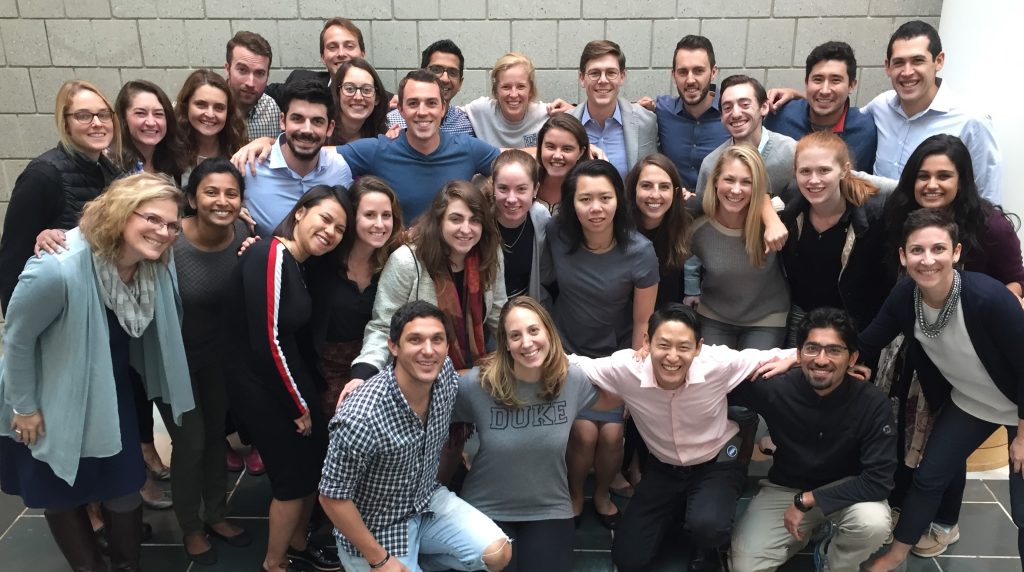 If we have one job at CASE, it's to prepare our students to be leaders on a changing planet – one with significant social and environmental challenges. And through our CASE i3 Initiative on Impact Investing, we have been exploring emerging opportunities for addressing these challenges through finance for over 10 years. Two things have become clear over this time. First, every business student with an interest in investing professionally – or even personally with their own assets – needs to understand trends in sustainable finance and ESG investing. Second, students are eager to take their learning from the classroom and test it in the real investment world.
So we are thrilled to announce the launch of a new student offering for our Duke MBA students that puts students in the driver's seat of managing a fund: The Fuqua Sustainable Impact Student Investment Fund.
Evolution to sustainable investment.
This fund is representative of the evolution of sustainable investing over the last several decades. The fund traces its origins to a 1952 gift made to Duke to provide students the opportunity to augment their coursework in Finance by investing a portfolio of publicly traded stocks, and students have had fiscal control over these assets since then. Now nearly 60 years later, our students have made a commitment to manage this portfolio with a sustainable and impact lens going forward. This matches trends in the investment world that students are preparing to enter.
A growing market.
Meg Starr, head of global impact at the Carlyle Group, says her firm sees ESG competencies as a proxy for management excellence. She is not alone. According to Sir Ronald Cohen, chair of the Global Steering Group, in 2020 there was over $30-40 trillion globally in ESG-screened investments. This number is the outcome of massive growth over just the last few years. According to John Goldstein, Head of the Sustainable Finance Group at Goldman Sachs, the market share of passive ESG investing grew from 1% in 2017 to upwards of 40% for the first 3 quarters of 2020. As investments in sustainable assets globally doubled in 2020, according to BlackRock, we believe nearly everyone in financial services will need basic familiarity with the demands of standardized reporting that integrates ESG, SDG, and impact measurement.
To counter "green-washing,' the regulators are coming.
In addition, regulators are starting to require companies and investors to apply specific practices around ESG and report on their impacts on sustainable development. In 2019, the European Commission passed the Sustainable Finance Disclosure Regulations, and those requirements became applicable to all asset managers and other financial markets participants in the European Union this July. In the U.S., the SEC's Gary Gensler says climate disclosure rules are coming this year, and disclosure of employee and owner demographics and diversity and inclusion in asset management will likely follow.
Practical application of key skills.
The skills students will develop while managing the student fund are the skills that investors are increasingly using to evaluate the environmental, social, and governance impacts of their investments as well as adhere to coming regulations. The fund prepares students to use investment as a tool to protect the environment and advance a more just world by: 1) giving students the opportunity to manage a portfolio of public equities through an ESG lens; 2) helping students practice integrating capital allocation and impact management and measurement in deal selection and diligence; and 3) serving as a ground for experimentation in cutting edge ESG, sustainable, and impact investing reporting strategies. Students will build skills through this for-credit experiential course and will have the opportunity to leverage the expertise of investment professionals, including Duke Alumni, representatives of Duke Management Company (now DUMAC Inc.), and other external fund advisors. Students will also be able to draw from the new training CASE just launched on Impact Measurement and Management for the SDGs to help companies and investors implement best practices in setting an impact strategy, integrating it into investment processes, using information to optimize impact, and reinforcing their commitments to stakeholders.
We are excited to facilitate this opportunity for the next generation of business and investment leaders to use investment as a tool for change.