Audrey Choi joined CASE Faculty Director Cathy Clark for an energetic conversation as part of CASE's 2021-22 Executive Speaker Series (ESS). Other CASE ESS speakers this year include Jay Coen Gilbert (B Lab, Imperative 21) and Michael McAfee (PolicyLink).
Audrey Choi has taken a rather circuitous route to her current role as Chief Sustainability Officer for multinational investment bank Morgan Stanley, with a common thread being a deep curiosity and commitment to learning.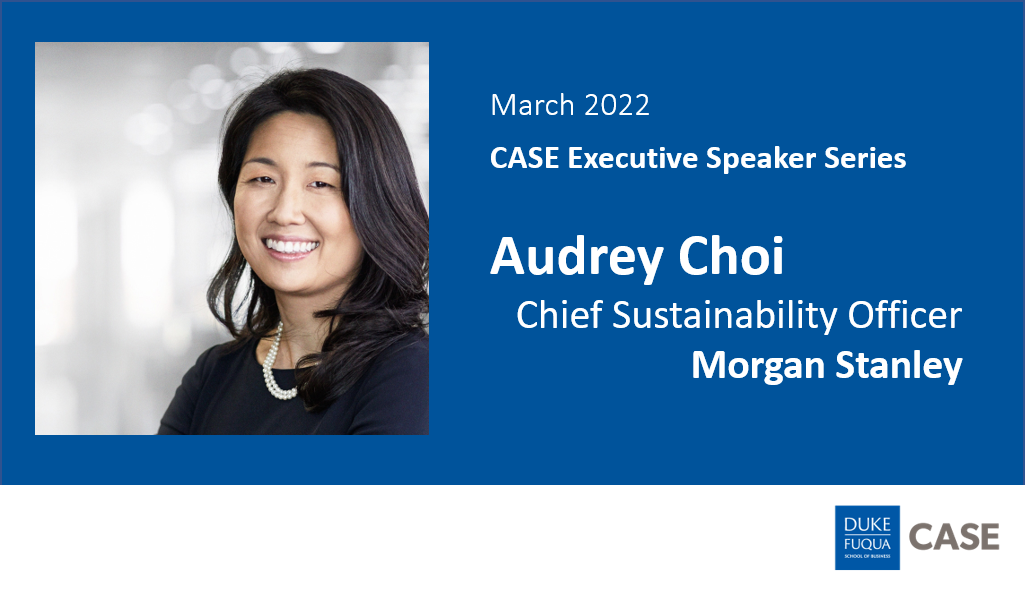 As an undergraduate undertaking a very theoretical course of study in comparative literature, Choi had no idea that a Fulbright to Germany (to study the same) would spark an interest in politics (East and West Germany were still separate countries) and economics. Marrying those new areas of interest with a penchant for the written word, Choi moved into journalism – becoming the Bureau Chief for the Wall Street Journal in Bonn, Germany. Later stints took her deeper into politics and economics through a White House Fellowship and continued work with Vice President Gore in the Clinton Administration, and then to business school to firm up her financial chops. After a few years in the private equity and nonprofit worlds, a dinner conversation with someone at Morgan Stanley led her into investment banking – a zig-zag career path well-suited for someone used to connecting and translating ideas across the public, private, and nonprofit sectors.
Choi began her journey at Morgan Stanley focused on women's leadership development, and quickly realized how she could use her influence to find and evolve meaningful impact for the industry. In 2008, she began advancing the idea of moving beyond the traditional view of corporate social responsibility to creating a business unit focused on sustainability within global capital markets. Choi was thinking about sustainability holistically – not just environmental sustainability, but all the ways that finance could have impact on people and planet. She began bringing colleagues on board with the idea, and over the years helped grow the evidence base around sustainable investing. Choi founded the Morgan Stanley Global Sustainable Finance Group in 2009 and the Institute for Sustainable Investing in 2013. From 2017-2021 she also served as Chief Marketing Officer for the firm.
Insight into Current Trends
Sustainability has Moved from "Charming" to "Commercial on Steroids."
Choi looked back over how sustainable investing has evolved to where it is today. She said at first, she encountered what she called the "charming" phase, where people thought sustainability was an intriguing idea but told her not to invest too much. She then identified what she called the "charismatic phase," where dedicated impact companies like Etsy went public and the issue of mission-driven companies got more attention. In the last few years, she said, we've been in a "commercial" phase, where most financial institutions have realized sustainability is a big deal. Currently, she said we're in the "commercial on steroids" phase, with sustainability and impact a part of nearly every conversation.
Mainstreaming Beyond ESG.
Choi believes that in the near future (single digit years), sustainable investing will become firmly incorporated into the mainstream behavior of every company and every investment. It will become embedded in the regulatory regime and there will be a winnowing that occurs to narrow in on what is really ESG (Environmental, Social, and Governance) and what is not. This mainstreaming will then bring much more innovation within capital markets products. Already, Choi sees more investors looking beyond ESG-integrated mainstream funds to more specific thematic ones, such as those focused on social justice or climate finance; they want to have a clearer picture of the direct impact that their investments are driving.
Investing in the Innovation Edge.
To meet evolving demand for innovative impact, the firm recently created a Sustainable Solutions Collaborative to focus on emerging solutions. New initiatives also include efforts to work with multinationals to have impact at scale. The Morgan Stanley Plastic Waste Resolution is a firm-wide commitment to facilitate the prevention, reduction, and removal of 50 million metric tons of plastic waste from rivers, oceans, landfills, and landscapes by 2030.
Her Advice?
Keep Up the Rigor.
While the mainstreaming of sustainable investing brings tremendous opportunity, Choi worries about the continued commitment among practitioners to hold themselves to the highest standards on both the impact and financial fronts. If the highest standards of rigor are not upheld as the practice widens, she emphasized, it can greatly threaten the promise of strong financial and impact returns – and thus undermine the viability of the field.
Heed the Lessons of Change Management.
While Choi has been an incredible force for change, she also showed how change in mindsets can be significant even when it happens gradually. Several times in her talk, Choi emphasized the power of persuading people inch by inch. She talked about using her shoe leather around Morgan Stanley in her early days, sharing her initial power point deck on a new initiative. With change, she recommends that you keep talking until someone takes an interest, and then you work with that person. Through her many conversations, she soon identified a promising route for a new strategy: Morgan Stanley's biggest advantage at the time was mobilizing tools in public markets, so she focused on how to make public sustainable investing more accessible to all kinds of investors.
Integrate Impact Everywhere.
Unsurprisingly for someone who's built a career making connections across sectors, ideas, and vocabulary, Choi's favorite word is collaboration. Her best piece of advice for students: if you are interested in sustainable investing and business, don't constrain yourself to only jobs labeled "sustainable" or "impact." You can integrate impact into any job, in any sector, in any function. The real change will happen when every person across the organizational chart is thinking about how to leverage their superpower for impact.
When asked about her own superpower, Choi replied it was seeing connections between disparate things, which she certainly demonstrated in her talk. And when asked what profession she would have liked to undertake if she hadn't gone to Wall Street, she replied she might have become a doctor. So far, her prescriptions for increased impact on the world's biggest problems appear to be having a great impact.