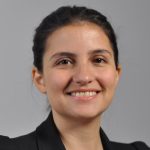 This post was written by Daytime MBA 2016 and CASE Scholar Alejandra Gerosa in March 2016. Alejandra came to Fuqua from a career as an advocate for organizations dedicated to making a difference. Most recently, she worked for independent humanitarian organization Doctors Without Borders, managing face to face fundraising in the organization's Spain association. She previously worked in communications and marketing for HelpArgentina, a foundation that mobilizes donors and volunteers towards Argentine nonprofits. She holds a degree in Communications from Universidad de San Andrés, in Argentina, where she co-founded a student-led social responsibility initiative.
---
Going into my MBA, I knew that the summer internship would be a great opportunity to apply what I learned over the first year of school. However, I didn't anticipate just to what degree I would be able to relate my first year experience at Fuqua to the skills I needed to succeed as an intern at PATH.
PATH is an international health organization driving innovation to save lives. They mobilize partners to accelerate promising innovations in vaccines, drugs, diagnostics, devices and systems, and overcome the barriers that might keep otherwise keep them from achieving scale. My role this summer, as an internal consultant, was to help them analyze a potential new revenue stream.
Here are three key business skills that were critical when working with such an organization over the course of my internship:
Collaboration as a key to success
PATH has projects in 70 countries, working with products that range from vaccines to water purification systems, in different stages of development and distribution. In an organization of this size and scope, communicating and garnering support from a wide range of people is key to success. Additionally, I worked in an interdisciplinary, international team to complete our deliverable for the summer. Fortunately, the spirit of collaboration that we foster at Fuqua made for a really smooth transition to working effectively with people in a professional setting. Together with the team, we were able to get advice and support from people from many different departments and levels of seniority. This made our deliverable better and it ultimately made our project successful.
Working with incomplete and ambiguous information
Our summer project involved research and analysis on a relatively opaque market, where most of the available information was incomplete and ambiguous. Navigating this problem was reminiscent of working through the cases in some of our core classes at Fuqua. After a year of practice with my C-Lead team, I was ready to understand what to do with the information we did have, identify which of the missing pieces were crucial and know how to manage the gaps. It made such a big difference!
Applying skills directly: analysis and presentation tools
I couldn't finish this post without mentioning two classes that related directly to the deliverables I worked on this summer. One was the Information Management elective. A big part of my role involved modeling out the financial outcome of taking on a new project. Armed with tools from Information Management, I was able to work with data in a way that analyzed the relevant information efficiently, and also presented the answers in a straightforward and visually appealing manner.
The second class that was really useful during the summer was Leadership Communication, which focuses on presentation skills. As part of our project at PATH, we had two different sessions where we presented our findings and recommendations to senior management. Our project was in a complex space that was very new to PATH, so it was crucial that we distilled our ideas and analysis to what was relevant to our audience. The lessons learned in the Leadership Communication class definitely helped me and my team deliver our message effectively.
Back in the spring, when it came down to deciding on summer plans, I was specifically looking for an internship that would allow me to apply these key business skills. I knew that PATH would provide this opportunity but I wouldn't have been able to choose it without the support of the Summer Internship Fund. The Summer Internship Fund enabled me to put these new competencies to use on a project that can extend PATH's catalytic impact in global health.
---
The Summer Internship Fund (SIF) enables first year Duke MBA-Daytime students to learn about the rewards and challenges of social sector management without making a significant financial sacrifice. In addition, the program enables organizations that otherwise could not afford to hire MBA student interns to benefit from students' expertise. The SIF has supported more than 170 students, distributed nearly $520,000, and helped to further the mission of many nonprofit and government organizations. Funds are raised through student fundraising and from donors who believe in the mission of the program. If you would like to contribute, you can donate online using your credit card.