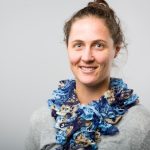 This post was written by Libby Rybacki, Fuqua MBA student, in December 2016. Libby arrived at the Fuqua School of Business after spending nine years serving in the United States Army where she led an airborne engineer platoon and supported numerous contingency operations across the Middle East and North Africa. Her experiences have fostered a passion for leveraging social change through innovative business and outdoor programs.
---
I had the pleasure of combining some of my greatest passions this summer with the help of the Summer Internship Fund – being outside, serving a mission bigger than myself, and developing as a leader.
My internship at the National Park Service highlighted the importance of finding a mission-driven organization that you can thrive in. Culture, and more specifically the leadership, can greatly influence how organizations operate. To be most effective in your role and have the greatest impact, you should consider your leadership style. As a leader of a mission-driven organization, you should also consider what style of leadership your organization needs and your subordinates prefer. My time at the National Park Service highlighted how different leadership styles can be, even in two organizations within the federal government.
Prior to working for the National Park Service I served nine years in the US Army. The military is known for its directive leadership style. I observed a distinct chain of command, clear roles, and structured decision-making processes. I found the directive leadership style to be very effective when leaders were faced with critical decisions on a short-timeline with limited information. Subordinates became accustomed to being told what was expected of them and how to perform their daily business. Typically feedback was provided in a linear and structured manner, often only at the conclusion of an operation or mission.
In contrast, my experience at Big Thicket National Preserve exposed me to a participative leadership style. The superintendent invited the staff into the decision-making process. These decisions were made in a more free-flowing manner, allowing the team to build buy-in. This leadership style can provide subordinates the opportunity to grow and develop by observing the decision-making process and can be very effective with a specialized staff offering different perspectives and experiences. However, the effort to fully understand everyone's perspective and gather all the facts takes time and can lead to slow implementation or inactivity.
While neither one of these leadership styles is "right" in all situations, leaders must choose where along the spectrum they can achieve the greatest results for their organization. The most important take-away for me was understanding the benefits of each style and identifying the appropriate situation in which to implement. Recognizing the impacts of a decision can help guide one to choose the best fitting leadership style.
In closing, it is extremely difficult to put into words what was so amazing about my summer. Combining many hours exploring the outdoors and growing as a leader of consequence in an environment that I love made for a great summer. I will look back on this experience and cherish the memories.
---
The Summer Internship Fund (SIF) enables first year Duke MBA-Daytime students to learn about the rewards and challenges of social sector management without making a significant financial sacrifice. In addition, the program enables organizations that otherwise could not afford to hire MBA student interns to benefit from students' expertise. The SIF has supported more than 170 students, distributed nearly $520,000, and helped to further the mission of many nonprofit and government organizations. Funds are raised through student fundraising and from donors who believe in the mission of the program. If you would like to contribute, you can donate online using your credit card.