Podcast: Play in new window | Download
Subscribe: Apple Podcasts | RSS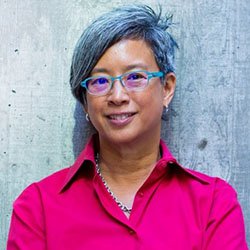 From Google to startups to the US Agency for International Development, Ann Mei Chang has seen how thinking big and taking calculated risks can lead to large scale change in any sector.  As a tri-sector leader, Ann Mei was able to leverage her tech industry experience and think about how "Silicon Valley" tools could be adapted to the social sector. Her passion for faster innovation and scale led her to write Lean Impact: How to Innovate for Radically Greater Social Good.
In this episode of CASE in Point, you'll hear Ann Mei share stories (from organizations such as VisionSpring, Summit Public Schools, and Watsi) and tactical advice based on her conversations with hundreds of social impact organizations.  You'll learn more about:
Sector Shifting
Ann Mei's personal journey and the proactive decisions she made to shift from traditional computer science and technology jobs to social impact.
Thinking Big, Setting Audacious Goals
A key difference Ann Mei saw between Silicon Valley and the social sector is the mentality around scalability and pace of change. Silicon Valley companies often set lofty goals to reach millions or even billions of people. In the impact space, she found that organizations often set more modest goals based on constraints (budgets, grant cycles, personnel, etc). Ann Mei argues for audacious goals and shares tips on setting goals that are relative to the magnitude of the need and that are clear and measurable.
Starting Small and Experiment
Ann Mei advises organizations to "start small" by conducting small experiments, iterating, and making the investment necessary to measure early indicators (and proxies when needed) to find what truly works before trying to scale.
Being Responsible as You Experiment
But how do you responsibly experiment on vulnerable populations? Starting small allows you to manage and pay attention to risks and ensure that the longer term solutions can help achieve the most impact.
The 3 Pillars of a Successful Social Innovation
Ann Mei discusses the three core principles she sees in successful social innovations: Value (having a product or service that stakeholders not only want, but also are excited to share); Impact (delivering and maximizing the social benefit that an organization is seeking to deliver); and, Growth (is there an engine that can accelerate growth over time, moving beyond linear growth to exponential growth).
The Critical Barriers for Innovation Adoption
From fear of experimenting on vulnerable populations to balancing the needs of end users as well as partners and funders, the challenges of innovating in the social sector are many. The one that Ann Mei thinks is the most critical? The risk averse, prescriptive nature of funding. She advocates for a different approach to funding, drawing lessons from the venture capital world in Silicon Valley and reflecting on impact investing and other new approaches to impact funding.
If you are enjoying our podcast, help us spread the word by leaving a 5-star review wherever you listen to your podcasts and don't forget to subscribe.