The Problem Kidogo is Working to Solve
Kidogo is helping to solve the global childcare crisis, and more specifically to address the dearth of quality, affordable childcare for low income women (particularly those living in informal settlements) in East Africa.
Why We're Excited About Kidogo's Impact Potential
Kidogo has identified many of the root causes behind the childcare crisis within the communities it serves, and its model provides solutions that address those root causes and ​aligns​​ key stakeholders. Kidogo has created a social franchising model designed for very low-income communities, partnering with entrepreneurial women from those communities (called "Mamapreneurs") to help them start or improve their childcare businesses to become high-quality, profitable early childhood education micro-business franchises. Kidogo provides intensive training, ongoing professional development, and quality assurance checks for its franchisees; the franchisees, in turn, provide high quality early childhood care and education for women and children in that community, at still-affordable rates. Kidogo reports that 100% of its Mamapreneurs' businesses are profitable.
We're excited about Kidogo's impact potential for several reasons, including:
Asset-Based Approach. Kidogo's commitment to building upon assets and infrastructure (i.e., existing childcare providers) that already exist in the communities in which it works.
Positioning for Government Partnerships. Kidogo's forward-looking effort to position the childcare model to be subsidized by government, and thus working to reduce per-child costs to be in line with the Kenyan government's education budget.
Incentive Alignment. Kidogo's work to align the incentives of its key stakeholders: supporting "Mamapreneurs" to run profitable businesses and find dignity and satisfaction in their work; providing community mothers with affordable, high quality childcare that allows them to engage in work; and ensuring that young children have the benefit of a stimulating, safe, and supporting childcare environment.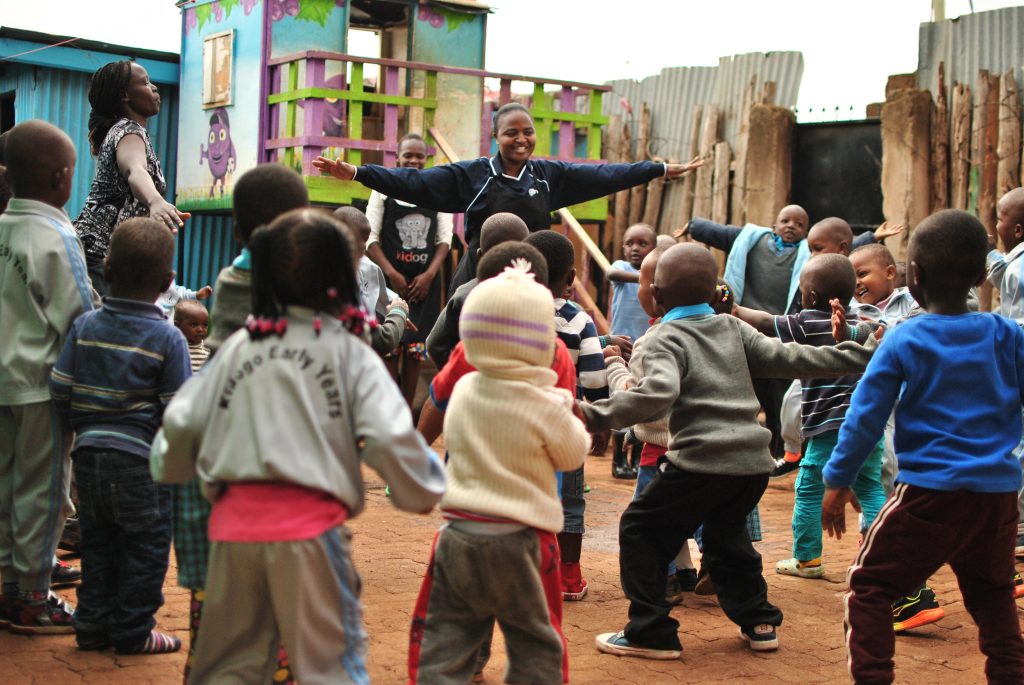 The Plan to Achieve Impact at Scale
We appreciate Kidogo's multi-pronged approach to scale, which clearly centers impact over organizational growth alone. Its plans also include exploration of new ways to increase its financial sustainability, capturing additional value from the unique value it has created.
To achieve additional impact at scale, Kidogo is planning to deploy the following strategies:
Geographic Expansion. Expanding the core social franchising model to new regions in Kenya, with a goal of reaching 2,500 Mamapreneurs and 50,000 children by 2025. (Kidogo currently reaches ~800 Mamapreneurs and 17,000 children)
Partnerships. Explore master franchising and technical assistance partnerships to enable other entities – with reach in new geographical regions – to implement Kidogo's model.
Achieving Sustainability with Government. Establish sustainable, high-quality childcare centers in government programs, building off of Kidogo's pilot providing childcare for young mothers at a vocational training facility (which has since been transitioned to government operations).
Advocacy. Continue to drive change nationally and globally around early childhood education, with a target of contributing to two new childcare policies over the next few years.