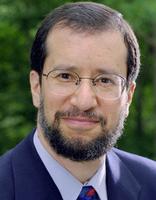 Faculty Director
Sim Sitkin is the Michael W. Krzyzewski University Professor in Leadership, Professor of Management, Founder and Faculty Director of the Fuqua/Coach K Center on Leadership and Ethics, and Director of the Behavioral Science and Policy Center at Duke University. Previously at Duke, he served as Area Head for the Management and Organizations Department, Faculty Director of Fuqua's Health Sector Management Program, and Staudenmeyer Research Fellow. Sitkin has also been Academic Director at Duke Corporate Education and on the faculty of the University of Texas at Austin and the Free University of Amsterdam. He is a Founding Partner of Delta Leadership, Inc.
Sitkin's research focuses on leadership and control systems and their influence on how organizations and their members become more or less capable of change and innovation. He is widely known for his research on the effect of formal and informal organizational control systems and leadership on risk taking, accountability, trust, learning, M&A processes, and innovation. His research has appeared in such publications as Organization Science, Academy of Management Review, Academy of Management Journal, Administrative Science Quarterly, and Harvard Business Review. His most recent book is Organizational Control (with Laura Cardinal and Katinka Bijlsma-Frankema), was published in 2010 by Cambridge University Press. His forthcoming book (with Rosalind Searle and Ann-Marie Nienaber), Companion to Trust, will be published by Routledge in 2016.
Before joining the faculty of Duke University in 1994, Sitkin was on the faculty of the University of Texas at Austin and has been a visiting scholar at Carnegie Mellon University, MIT, Stanford University, Xerox Palo Alto Research Center, and the University of Queensland. Prior to being awarded a PhD in organizational behavior from Stanford University, Sim spent over ten years in a variety of executive roles with responsibility for planning, information technology, financial administration, and research in consulting, non-profit, and government organizations.
Visit Sim's Fuqua faculty page for more information about his research.