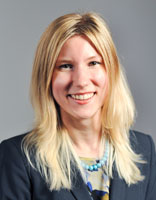 One of my primary reasons for choosing Fuqua for my MBA was the Duke University Hospital Experiential Learning Practicum (DUH-ELP), because it or an equivalent program is so unique to very few schools. I was very happy and honored to be accepted into the limited class when I applied for my second half of first year.
I hail from Toronto, Canada, where, prior to Fuqua, I worked tangentially to the health care industry, providing client advisory services to health care technology start-ups across pharma, medical device, digital health and consumer health. I knew health care is where I wanted to end up long-term; therefore, coming to America, it was important to me to get exposure to the US industry. Apart from an interest in health care, as a $3 trillion market and 18% of GDP, the sector cannot be ignored and provides fascinating business challenges for future MBA leaders to tackle. I specifically wanted to learn most about the provider side of health care (and by extension payer), because it is the most dissimilar from home, and between countries in general. What better way to do that than work in it, and in one of the nation's most prestigious academic hospitals, no less?
My fellow DUH-ELPers and I got to meet with the former President of DUH, Kevin Sowers.  He shared some of Duke Hospital's most pressing challenges across their entire regional network, and we got to choose which problem we each wanted to solve.  I appreciated being able to select a project I felt would best prepare me for recruiting and my summer internship. My priorities were to enhance my analytical skills in practice, collaborate with multiple stakeholders, test whether I like consulting, and for interest's sake, gain exposure to the patient experience.
In the end, I was able to analyze a plethora of data to diagnose the current state of ambulatory care triage, while also completing supplementary stakeholder surveys and interviews with nurses, physicians, administrators, and patients.  The surveys and interviews actually led to the most interesting findings, and also provided context for the data.  At the end of the semester, I had the opportunity to present my work and recommendations to the department vice president and Kevin Sowers. To prove DUH takes our work seriously, they offered a follow-up next phase of my project to Fuqua students the following term.
All-in-all, DUH-ELP warmed me up, like a mini-internship, for my summer as a Business Development Manager with a medical device company, and now for consulting full-time. Here are some highlights I got out of it:
A better understanding of US health care that made a lot of what I learned in HSM classes click
Confirmation that I like a lot of aspects of consulting; for example, working with a client for a short period of time, collaborating with multiple stakeholders with conflicting priorities, synthesizing massive amounts of data, and deriving and communicating key actionable insights
Understanding how to motivate people who have no obligation to you
Expansion of my professional network
More confidence in my capability than I gave myself credit for before coming to Fuqua
Other bonuses of DUH-ELP to consider:
Provides international students with great domestic experience, or anyone with general consulting experience to fortify your CV
You are the only Fuquan to represent your project, which can be a nice change from all the teamwork at Fuqua
Very flexible schedule that works well with juggling your other classes at Fuqua
I can say confidently that DUH-ELP provided me with my greatest learnings while at Fuqua so far, and is one of the primary reasons I will be happy I chose Fuqua in the end.