Academics
The Health Sector Management (HSM) Certificate offers an education in the interaction and interdependencies of health-related industries and organizations. Offered across all of Fuqua's MBA programs, as well as to Fuqua MBA alumni, students earn the HSM certificate through a combination of required coursework, industry context electives, and breadth electives.  HSM course offerings and course content are continually being updated as a result of changes in this dynamic field.
Course Requirements for the HSM Certificate
Please select from the following links to view the HSM Certificate course requirements specific to each MBA program:
Daytime  | Weekend Executive | Global Executive | Alumni
HSM Courses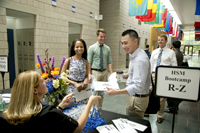 Health Institutions, Systems & Policy (HSM Bootcamp)
In this one-week intensive bootcamp, students will become familiar with how healthcare regulations around the world interact with companies in the health sector, including how governments are involved in the functioning and financing of these different companies. Students will also examine more closely the primary commercial segments of the industry including pharmaceutical companies, biotechnology, long-term care facilities, and health IT. This study of the industry will be accompanied by a discussion of the history of the industry, how it has evolved to its current state, and how people can shape the future of healthcare through the topic of the uninsured, healthcare reform, and delivery systems. The week will integrate guest lecturers from Duke, as well as the business and policy world. This course provides students with a foundation in the structure and function of health care systems and the framework to build upon their specific goals and interests in the field.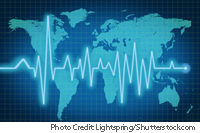 Fundamentals of Health Sector Management: A Global Perspective (HSM Seminar)
The HSM Seminar course examines the challenges of rising healthcare costs in both developing and developed countries, with both nationalized and private health insurance. Students will explore the various ways governments and industries around the world are working to control spending. The course will also cover how financing and organization of healthcare delivery can affect healthcare costs and provide an understanding of the sector's complex institutional environments. This includes the structure of healthcare providers, regulators, payors, and product markets. HSM Seminar will provide students an opportunity to engage in issues and readings that address broad contemporary challenges to the health sector. Students are expected to participate in discussion.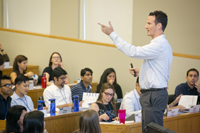 Health Care Markets
Health Care Markets uses tools from business and the social sciences to examine challenges faced by managers, patients, and policy makers in the health sector. The course aims for broad coverage of health care, including manufacturers and providers, but pays special attention to payers. Weekly topics will include demand for and supply of health insurance, cost effectiveness of a medical intervention, health information technology, innovation and competition for medical products, and hospital leadership and competition. The class is both for those who have a deep knowledge of the health sector, as well as those who are new and willing to work hard and learn. Lively discussion and a diversity of perspectives are highly encouraged.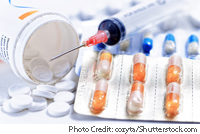 Biotechnology and Pharmaceutical Strategy
This course covers a drug's life cycle from innovation to generic competition. First, the course focuses on research and development, including managing scientists, financing clinical trials, and selecting molecules. Second, the course examines emerging markets, including intellectual property, incentives for innovation, and access to medicines. Third, the course covers leadership and regulatory compliance. Fourth, the course covers pricing and reimbursement. Finally, the course covers competition following patent expiration, including generic and over-the-counter products. Both business strategy and public policy are important components of the course. Active discussion and diverse perspectives are encouraged.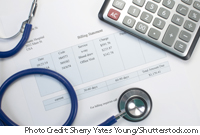 Health Care Provider Strategy and Operations
Health Care Provider Strategy and Operations provides an inside look into the health care provider space. Students will grow their strategic and operational thinking skills and ability to persuasively communicate analyses and recommendations. This course will explore how providers address a rising demand, complexity, and supplier cost, while still balancing providing high quality, profitable services. The class will incorporate guest lecturers from industry, focused case studies, and a team-based analysis of challenges facing today's current provider organizations.
Medical Device Strategy
Medical Device Strategy is for students who aspire to work for a multinational corporation or entrepreneurial start-up in the medical device industry, as well as for students who want to better understand the industry's impact on healthcare systems worldwide. The class will examine a variety of case studies on medical device companies and gain insights into what drives superior performance in this dynamic and fast changing industry. The professor also incorporates several real-world case studies from his nearly 30 years in the industry. The class will cover a wide range of opportunities and challenges facing the medical device industry today. Students will learn how medical devices are developed, regulated and commercialized in key countries around the world. There is a heavy emphasis on the role of entrepreneurial firms who drive much of the breakthrough innovation in the industry. Other topics include corporate strategy, fundraising, collaboration with physicians, reimbursement and digital health. Guest speakers for the class include a medical device entrepreneur, physician customer, patient and senior MNC executive.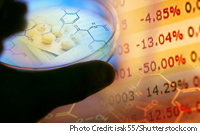 Life Science Product Strategy
This course examines product strategy in the biotech, device, and pharmaceutical industries. Case studies include entrepreneurial start-ups, large incumbents, and companies in between. Life science product companies face new challenges and opportunities. Emerging markets are growing rapidly. Developed markets have changes in regulatory oversight and reimbursement, including emphasis on evidence-based medicine. Patient populations are shrinking as diagnostics become better able to identify which patients respond best to which medicines. Companies are moving beyond the blockbuster and some are focusing on rare diseases. Many of the tools for business education are useful in the life science product market. To succeed, industry professionals need a deep understanding of corporate strategy, financing options, product development and innovation management, marketing, and customer needs. However, there are also important differences in regulation and reimbursement of health care. For example, in this course, students will use tools from economics and marketing to understand pricing, with the caveat that often insurers are paying the bills.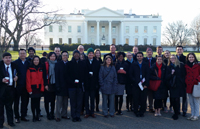 Health Systems & Policy (Week in DC)
Health Systems and Policy (Week in DC) provides students with an understanding of the business interrelationship between public and private sectors in one of the most dynamic and highly regulated industries. Students learn about current issues in health policy including healthcare reform, the role of private insurers in the new marketplace, and more. The class culminates in a trip to Washington, DC to hear from speakers who are key stakeholders in the US health care system from all branches of the US government, as well as consulting and advisory groups, business leaders, and lobbying firms. The week spent in DC gives students a real-world perspective as they examine the institutions critical to health policy and health care delivery.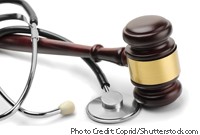 Health Care Law & Policy
Health Care Law & Policy explores the intersection of these two topics and provides knowledge of the legal and regulatory framework that surrounds the health sector. Some topics of study may include economics of health care and health care costs, professionalism and delivery of care, medical malpractice and standards of care, fraud and abuse in government programs, the internal organization and legal liabilities of hospitals, and structural reform, among others. The course is designed for both law and MBA students, and aims to bridge the market and legal issues that combine to shape the industry.
Fuqua Client Consulting Practicum
The Fuqua Client Consulting Practicum (FCCP) enhances students' business education by developing collaborative consulting engagements with businesses and nonprofit organizations in which students assist their client organizations in addressing existing and emerging challenges. FCCP offers customized consulting assistance to a diverse array of organizations. Clients have varied from small, local business and nonprofit organizations to global corporations to social entrepreneurs in developing markets. Examples of health care projects include recommending a market entry strategy into a Latin American country for a pharmaceutical consulting firm and analyzing and recommending improvements to the patient acquisition process for a physician clinic. Engagements have been structured to include student team travel to locations within the US and internationally.
Duke University Hospital Experiential Learning Practicum (DUH ELP)
The DUH ELP course is a unique partnership between Duke University Hospital and the HSM program. In this Practicum, students will work closely with a faculty member and a Duke University Hospital preceptor to develop solutions to current health issues affecting the Duke Health System. Throughout the project students will learn to identify specific needs for a health system, work with DUH personnel to develop a project plan, give a final presentation of deliverables, and develop greater overall understanding of the comprehensive decision-making processes of large health systems.
HSM Project Course
In this course, students apply their business skills to the analysis of a healthcare management or policy challenge. The project will include the selection of an organization, the development of a proposal describing the project, and the subsequent research to complete the analysis. To finalize the project, students will write up their analyses, findings and implementation steps. Students will be assisted by a project mentor and course faculty.
A number of courses outside of HSM and outside of Fuqua may count towards the HSM certificate as breadth electives.  Course offerings vary from year to year and are subject to change based upon classroom space, student interest, and professor availability. A complete listing of courses counting towards the HSM certificate for Daytime MBA students can be found here. Executive MBA students should refer to the Weekend Executive, and Global Executive HSM Certificate requirements pages for examples of breadth electives.
Duke University has interdisciplinary coursework across the schools of Medicine, Public Policy, Law, Nursing, and the Graduate School that may be of interest to some HSM students.  While these courses do not count towards the HSM certificate, students may find them captivating and relevant, and they may fulfill some of the MBA electives with approval from the Fuqua Registrar.  HSM has compiled a list of classes that may align with students' interests here.