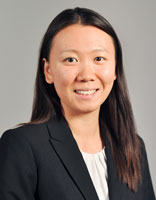 The depth and breadth of HSM's reach provides students the opportunity to follow their passions. If there is an area of health care you would like to explore, HSM provides access to industry and academic expertise as well as several channels for real world projects. Through HSM I've been able to craft my own health care adventure.
Growing up, my mother had breast cancer from when I was 9 until I was 20. We were fortunate to live in a time of targeted therapies, one of which enabled her to live with metastatic disease for 8 years at a time when the average was 2.5 years. However, she ultimately died of metastatic breast cancer when I was a college junior, and we as a family struggled to navigate the health care system throughout her battle. Looking back at my family's experiences, I wonder what could be done to improve the lives of patients with serious illness and maximize value. I found myself left with questions on the health care system that I hoped to explore at Fuqua.
Questions:
Innovation – What does it take for manufacturers to commercialize new drugs addressing high unmet medical need?
Access – What are the trends in access and payment?
Quality – How are providers improving patient safety?
Innovation: When it comes to understanding innovation in areas of high unmet medical need, I took part in a mentored study called "New Venture Fellows" and interned at Bristol-Myers Squibb in World Wide Oncology Strategy. New Venture Fellows allowed me to work on an early stage pre-clinical technology developed by a Duke Researcher with potential applications to triple negative breast cancer, while Bristol-Myers Squibb gave me exposure to working on secondary innovations to a blockbuster immuno-oncology product. These experiences gave me a glimpse into the commercial work required to commercialize novel products at very different points in the product life cycle.
Access: Last spring I took a course called Public Policy 890.01: Policy and Management for High-Value Health Care taught by former FDA commissioner Dr. Mark McClellan. The course highlighted strategies and policy reforms to improve health care with an amazing roster of speakers including leaders from government, provider, tech and biopharma. Most relevantly to my goals was a lecture and speaker from a leading manufacturer on value-based payment in biopharma and episode-based payment to the provider. This term I will be taking HLTHMGMT: Health Systems & Policy and am looking forward to visiting DC in January with my classmates to meet and hear from members of government and industry.
Quality: Finally, this semester I am working on another mentored study at Duke Hospital around patient education. The goal of my project is to aid DUHS in their transition to a new patient education platform which will provide a broader offering of materials and videos for patients. The new system will also increase access to translated materials. This experience has allowed to learn about the culture on the provider side and more tactically, the benefits of patient education including better outcomes and potentially shared decision making as well considerations when introducing change to a large health system such as provider training and support.